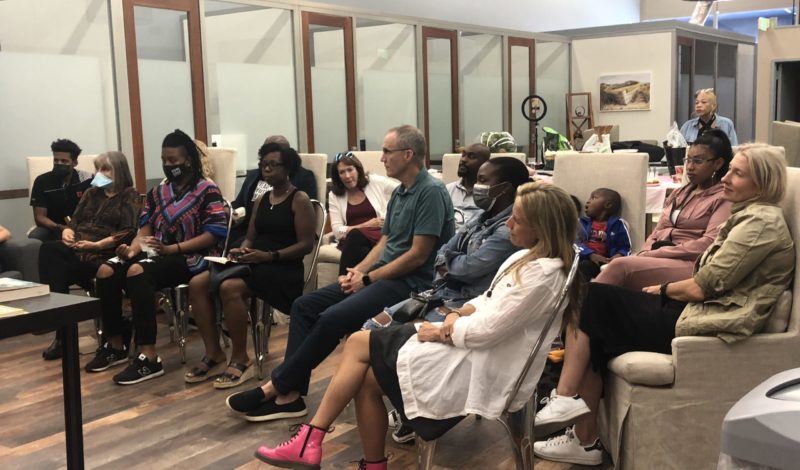 Definition: Un·com·fort·a·ble
in a state of discomfort; uneasy; conscious of stress or strain.
Slightly over a year ago, I started this thing called Sister Cities Project. From the outside, SIster Cities Project looks like another organization dedicated to fighting racial inequality in America, which it is. But for me, Sister Cities Project is much more than that. It is the manifestation and extension of me, based on the unique life experiences and philosophies I developed from those very experiences.
An experience that included living in Long Beach, a pretty rough, low-income almost all-black community in the '80s but attending kindergarten at an all-white Christian School almost 20 miles away in Lakewood, an affluent all white community. Then attending elementary school in Long Beach and then back to Lakewood for Jr. High. This continued with the death of my mom at the age of 13, prompting a move to live with my older brother in San Diego. They say things happen for a reason. As a very gifted athlete from a young age, the death of my mom robbed me of my adolescent "Why", which was to take my mother out of the situation she was in. I was destined to do that but I think god found a better use for my talents. In San Diego, I attended Horace Mann Middle School in Southeast San Diego, one of the most underserved communities in San Diego. The final leg of this life defining journey was a move to Spring Valley, attending Monte Vista High School, a predominantly white high school in the '90s.
Through all of this, I became very comfortable with being uncomfortable which helped me develop a universal approach to building relationships and quickly acclimating to situations. The secret sauce to the approach was simply being genuinely interested in who other people were and what they had to say more than myself and what I had to say. I developed that approach at an early age but I was not born that way, nor was it an actual conscious thing that I was necessarily trying to do. It became second nature out of necessity. It came from finding myself in one uncomfortable situation after another.
Situations like having an afro in kindergarten. None of the white kids could understand the engineering behind round hair and couldn't stop wanting to touch it due to the texture. Meanwhile, back in Long Beach the black kids in the neighborhood constantly asked why I talked white due to my articulation of words stemming from the fact that my mom was a teacher and stressed proper grammar. The uncomfortableness that comes along with the understanding that you are sometimes subconsciously ashamed of your skin color due to the seemingly never ending negative stereotypes and portrayals attached to it. It's uncomfortable sometimes feeling that your place in the world is tolerated or that even white people that are friendly with you
subtly and again subconsciously will sometimes react and interact with you differently than others based on your skin color.
So since confronting uncomfortableness and being uncomfortable was one of the most important learning lessons in my life and one of the key aspects that Sister Cities Project was founded on, we are offering this blog as a platform to discuss what makes you uncomfortable when it comes to race.